Boys Over Flowers
Meteor Garden
Hana Yori Dango

aQ mmg glerk fanatik dgn cter niyy ! Ehem2. Kowg pon samerr arn? Haha. Sena nye aQ siyes x brpe minat dgn cter b'siri. sbbSBB aQ bkn jenis yg suke ngdp tv. Lg pon leceh ar klw tgk cter b'siri niyy. Kne follow tiap2 hri. Klw x follow 1 epsod tu arn x bez da rse nye. Sbb tuu aQ lg ske tgk movie jerk. Bior 2 kerk 3 jam ngdp tv, yg pntg bukn hri2. aQ slalu stay dpn tv mlm sbtu. Kt AXN slurn 701 astro de movie tiap2 mlm sabtu kol 9. HallMark pon byk gk cter arn. Tp aQ slalu ar gk tgk CSi : New York. Dlm byk2 Csi arn, aQ lg suke NY. Pstuu tgk Miami. Skrg NY da kurg. Miami yg byk. Huhu. Tgk jerk La pe yg de.

Erm, b'balik psl Boys over Flowers niyy. 1 hri tuu s'cra x sgje aQ tlh stay kt 8tv. Tup2 de cter BOF niyy. Epsod 1 ar beb ! niyy yg bez niyy ! Sbb slalu aQ tgk cter b'siri mstyy da smpai tgh2 arn epsod dyy. So, sjk rituu aQ b'azam nak tgk cter tuu smpai abes. && last 2 weeks cter tuu da abes daa. Puas doe tgk ending dy. Besh ! Akhirnye Jan Di && Jun Pyo b'smaa. Sweet meyh dowg. Da ar Jun pYo tuu hnsm. Hehe. Aq dgn Yen klw kt kls mstyy cter psl BOF tuu pg2. Even we both da tgk arn, tp msg2 ttp nak cter gakk. Hehe. Ntah pe2 jerk. Pastuu tgh cter2 mcm x nak m'jerit2 lak arn. Haha. Lantak aQ la weyh !

So, td mse adeQ aQ men tenet, dy cri gmbor2 BOF niyy nak wt wallpaper (p/s: wallpaper screen aQ skrg gmbor Yi Jung && Autumn aw ! Hehe).


Sweet arn? Hehe. Tgh2 cri wallpaper tuu jap lg aQ t'jumpe la gmbor niyy.



caption ; aQ rse la arn dowg niyy msok p'tndgn tiru gy F4. Pe pndgn kowg ? Samerr x ?



caption ; niyy la Versi2 F4. Dr kiri> Versi Komik,Versi Korea, Versi Taiwan && Versi Jepun. Sape plg hnsm ? Mstyy ar yg Korea py. Haha ! (jht uhh diLaa)

Aq prnh tgk Meteor Garden niyy mse aQ skol rndh arn. Mmg besh ar. Heroin dyy pon comel. Barbie Hsu kot nme heroin dyy. Jerry Yang (Jun Pyo versi Taiwan) niyy pon leh thn hnsm gak. Da ar tggi. Mmg ptot jd ketua meyh. Huhu.

Sena nye skrg aQ dlm proses m'hfl OST BOF niyy. Sbb bile aQ nynyi kgkwn aQ slalu gelakkan. aQ nynyi cm niyy,

diLa : "Almost paradise, na na na na na na na na..."
Kwn aQ : "Da la diLa, kw madah nynyi nanana jerk. Bek kw diam"

Dgn azam && tekad di dada, aQ b'cdg utk m'hfl lgu Paradise by T-Max uhh. Dlm proses lg. aQ msok kn lgu tuu dlm hnst aQ. Salin lirik dy, pastuu tiap2 pg && sblom tdo aQ nynyi ikot lirik tuu. Tp siyes ar, mmg sush ! b'belit2 lidaa aQ. Haha !

Lirik Paradise by T-Max

(c/o 1)
Almost Paradise achimboda deo nunbusin
Nal hyanghan neoui sarangi onsesang da gajindeutae
In my life nae jichin sarme kkumcheoreom
Dagawajun ni moseubeul eonje kkajina saranghal su itdamyeon

Neoui soneul japgoseo sesangeul hyanghae himkkeot sorichyeo
Haneureul georeo yaksokhae yeongwonhi ojik neomaneul saranghae
Bamhaneul byeolbitgateun uri dulmanui areumdaun kkum Paradise
Neowa hamkkehandamyeon eodideun gal su isseo to the my Paradise

(pre c/o)
Neoreul irheotdeon sigangwa geuapeum modu daijeobwa
Ijebuteo sijagiya neowa hamkke
Tteonaboneun geoya dallyeoganeun geoya loving you forever

(c/o 2)
Almost Paradise taeyangboda deo ttaseuhan
Nal boneun neoui nunbicheun onsesang da gajindeutae
In my life nae jichin sarme biccheoreom
Dagawajun ni sarangeul eonje kkajina ganjikhal su itdamyeon

You are All of my love!
You are All of my life!
Nae modeungeol georeoseo naneunneoreul saranghae!

Jeo pureunbada gateun uri dulmanui areumdaun got Paradise
Neowa hamkkehandamyeon eodideun gal su isseo to the my Paradise

(Repeat pre c/o)
(Repeat c/o 1)

Cheonsagateun ne misoga gadeukhan uri nagwone
Neomaneul wihan kkotteullo yeongwonhi chaewo dulkkeoya

(Repeat c/o 2)

Eonjekkajina saranghal su itdamyeon~

So, kt cnyy aQ g tau kowg OST2 yg de dlm sume Siri BOF uke.

Boys Over Flowers
Opening Theme : Paradise by T-Max
Ending Theme : Because I'm Stupid by SS501
Insert Songs : Stand by Me by SHINee, One More Time by Tree Bicycle, Lucky by Ashily

Meteor Garden
Opening Theme : Qing Fei De Yi by Harlem Yu
Ending Theme : Ni Yao De Ai by Penny Tai
Insert Song : Love of My Life by Queen

Meteor Garden II
Opening Theme : Can't Lose You by F4
Ending Theme : The Season of Fireworks by F4
Insert Song : Broken Vow by Lara Fabian

Hana Yori Dango
Opening Theme : Wish by Arashi
Insert Song : Planetarium by Ai Otsuka

Hana Yori Dango Returns
Opening Theme : Love So Sweet by Arashi
Insert Song : Flavor of Life by Utada Hikaru

Hana Yori Dango Final
Opening Theme : One Love by Arashi
Insert Song : Kisshug by Aiko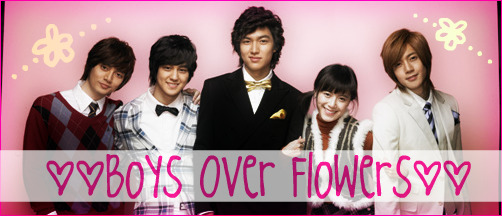 Boys Over Flowers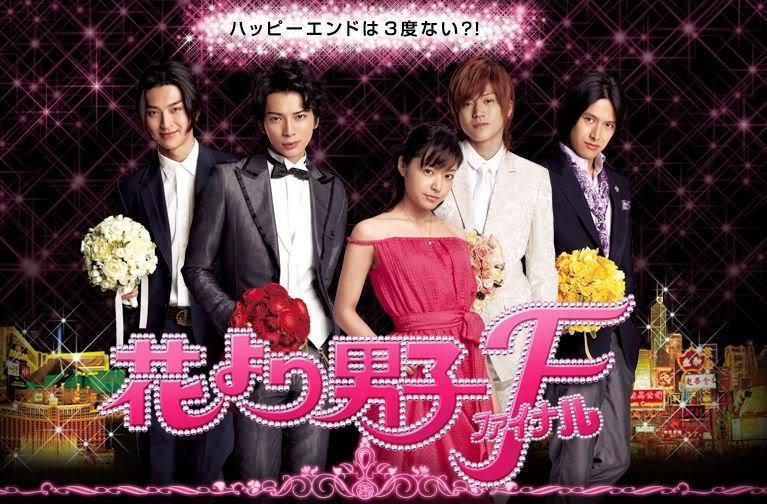 Hana Yori Dango


Meteor Garden



Ramalan masa depan ;
Adakah diLaa akn m'jd sowg yg addicted kpd Music Korea ?
nntyy kan de next Entry uke !
De story aQ nak cter kt kowg psl Music Korea.